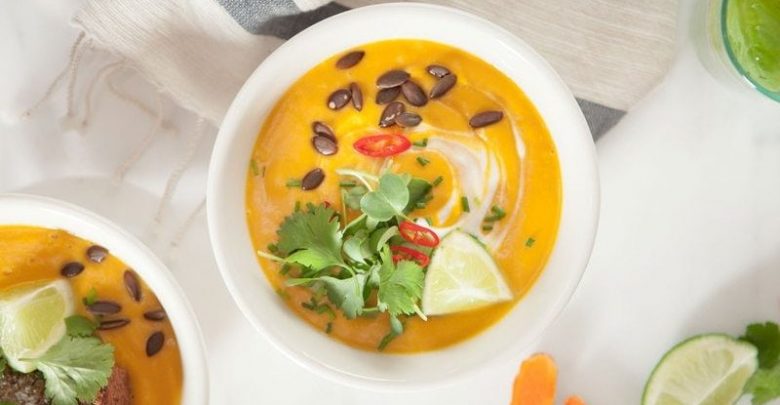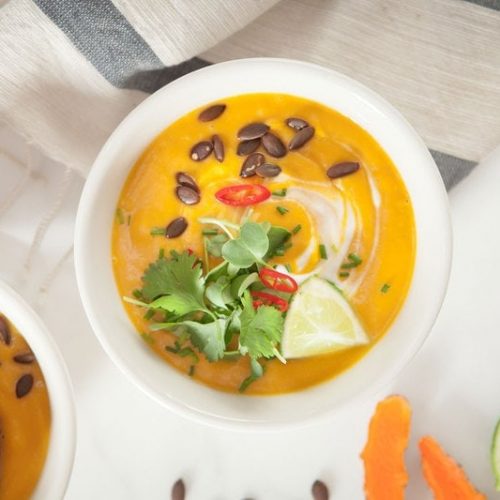 Thai Pumpkin Soup
A luscious anti-inflammatory Thai Pumpkin Soup with turmeric, ginger, lemongrass, chilli, spices, coconut milk, and roasted pumpkin. Naturally gluten free and plant-based
Ingredients
600

g

pumpkin

3

cups

vegetable stock or water

½

cup

coconut milk

canned

1

tablespoon

coconut oil to roast and fry with

1

tbsp

lemongrass, white part only

chopped fine

2

keffir lime leaves shredded

1

teaspoon

cumin seeds

1

teaspoon

coriander seeds

1

inch

red chili de-seeded

sliced thin

1

inch

fresh ginger peeled and minced

1

inch

turmeric peeled and sliced

1

shallot diced

4

cloves

garlic sliced

Few good grinds of black pepper

Fresh coriander lime wedges to serve
Instructions
Pre-heat oven at 180˚C (350˚F) forced fan, line a tray with baking paper.

Peel and chop pumpkin, toss with coconut oil and roast till golden.

Heat coconut oil in a large pot (medium heat), then fry shallots till golden, add cumin and coriander seeds and cook for a bit longer till fragrant.

Add lemongrass, ginger, garlic, turmeric, chilli and kaffir leaves, cook another minute – but don't burn!

Add roasted pumpkin and stock, cover and bring to a boil, then let simmer for ten minutes. Add coconut milk, then turn up the heat and let it bubble away uncovered till it reduces down slightly for about 5-10 minutes.

Once cooked, remove from heat and let cook a little, then blend till smooth and serve with fresh coriander and a squeeze of lime.
Notes
You can add some other vegetables to the mix if you find pumpkin too sweet on its own, I often use a few potatoes and a zucchini. The thickness of the soup will vary depending on how dry/watery the pumpkin is.